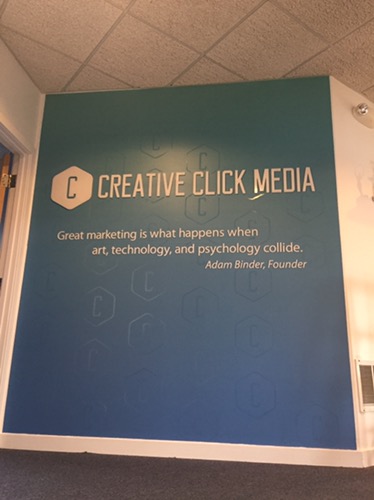 18 Aug

Creative Click Media lobby logos and interior branding install and event!

Wow, what a super-fun project! Earlier we posted some behind the scenes images and a video showing the production process for this fun project.

What started as a simple idea based off of a business card design, turned into an unique showpiece for this high tech, modern office. Team Typestries started with a matte wall wrap that matches Creative Click Media's branding. We added spot gloss overlays, custom cut out to match their icon. To that, we added multiple layers of gloss acrylic dimensional letters, further defining the gloss/matte contrast effect.

Here's an overall shot showing the size of this piece, and the highlight the spot gloss adds to this interior sign project. Installing this totally changed the dynamic of the entire office.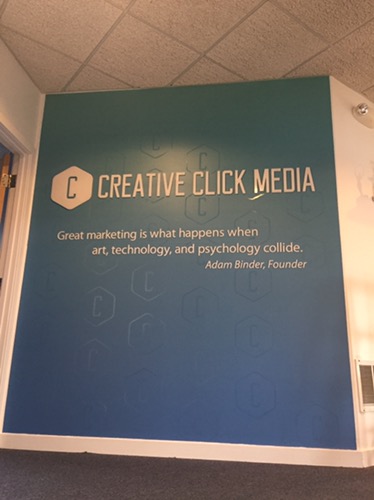 Close-up of the logo, lettering, and background. Awesome dimension and contrast with natural shadows.
The interior wall wrap in action, at the ribbon cutting ceremony. Pictured with Mayor John Spodofora and Councilman Dave Taylor cutting the ceremonial ribbon. Loads of pictures were posted to social media of this event, giving tremendous exposure to Creative Click Media.
The extremely talented Sahara Moon performs for the crowd in front of the interior lobby logo. Again, loads more social media photos and videos posted.
Not only do these lovely interior sign projects help to define your space and reinforce your brand they add tremendous impact to your brand through captured and posted photos. Let Typestries help transform your office space with a beautiful interior wall wrap or sign.