30 years of Manahawkin, Ocean County sign & vehicle wrapping excellence!
If there's one thing we know works for businesses here in Manahawkin, it's vehicle wraps. On a branding cost analysis and return on investment (ROI) basis, fleet wrapping is simply the most efficient way to market your business in Manahawkin and Ocean County.
Mobile signage, vehicle wrap, fleet branding… whatever you want to call it, it's one of the most effective ways to market your Manahawkin business.  It's a unique medium with proven results. When it comes to van, car, truck, and trailer wraps, Typestries is the cutting edge in fleet graphics and vehicle wrapping.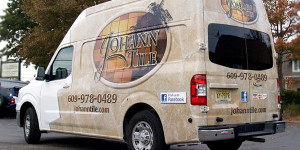 Right here in Manahawkin, Johann Tile saw this first hand. The day after Typestries did the Nissan Van wrap for this Manahawkin/LBI-based company, they landed a walk up $7,500 tile job. They came right back and had their other truck wrapped.
"Both vehicles continue to produce profitable leads. Drive past a job site and their brand shines in a sea of blank white vans," says CEO and owner of Typestries, Rick McDonough.
Let's also remember that vehicles in Manahawkin that service LBI are much more susceptible to rust. The same salt air that brings people to Manahawkin and LBI by the thousands is a killer to your vehicle. When you invest in a vehicle wrap, you're investing in the body of your car or truck. Wraps not only protect your vehicle's finish for resale value, but they also decelerate the rust process.
OUR SERVICES FOR THE MANAHAWKIN AREA
Trailer Wrap
Truck Wrap
Car Wrap
Vehicle Branding
Auto Wrap
Vehicle Wrap
Box Truck Wrap
Delivery Truck Wrap
Work Truck Wrap
Pick up Truck Wrap
Mobile Graphics
Vehicle Wrapping
Truck Wraps
Mobile Marketing Design
Fleet Wrap
Fleet Graphics
Camo Wrap
There are other ways to get that kind of name recognition, and some of them are very important to your brand. Take a billboard in Manahawkin. The same people who see your vehicle will see your billboard, but how much is that billboard per year? It's a lot more than the cost of your trailer wrap, which you could have for a decade. Or compare the cost of a box truck wrap to a radio, newspaper, or local cable ad in Manahawkin. Chances are, you're dollar goes a lot further with a good vehicle wrap.
Typestries Sign & Design in Manahawkin has been serving Ocean County as well as all of New Jersey, Pennsylvania, and New York for 20 years. We were among the first in the area to do vehicle wraps and offer 3M, Controltac, Oracal, Arlon and Avery wraps. The successes of the businesses that have invested in van, truck, trailer, car, or entire fleet wraps speak for themselves. Contact us today and we talk about wrapping your vehicle right here in Manahawkin.